Management Team
Jon Overell
Director
Mobile: 0428 717 493
Email: jon@ecstevedoring.com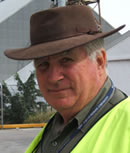 Jon has had more than 40 years experience in the transport and bulk materials handling industries, including 20 years stevedoring expertise. He headed up Overell Transport for much of his working life, responsible for up to 50 trucking sub-contractors and staff specialising in the movement of rural industry commodities throughout Australia. In 2001 he also created a specialist project stevedoring business mainly involved in the handling of fertilisers and grain in Queensland. As the principal of his own businesses during those years Jon has become an expert "fixer" with a profound understanding of rural industry requirements and the demands of supply chain and logistics support in Australia and internationally.
Glen Coles
Director
Mobile: 0408 700 822
Email:
glen@ecstevedoring.com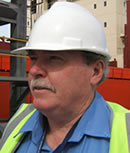 Glen has been involved in the discharge of bulk vessels for more than 17 years. He's supervised the discharge of all types of fertiliser, both bulk and bagged, from various types of vessels to the modern box holds of today. Glen is a licensed fumigator and is qualified to inspect and test for gases prior to hold entry by government officials such as AQUIS and Customs officers. He has extensive experience in the stockpiling and warehousing of various bulk commodities, quality testing and storage monitoring.